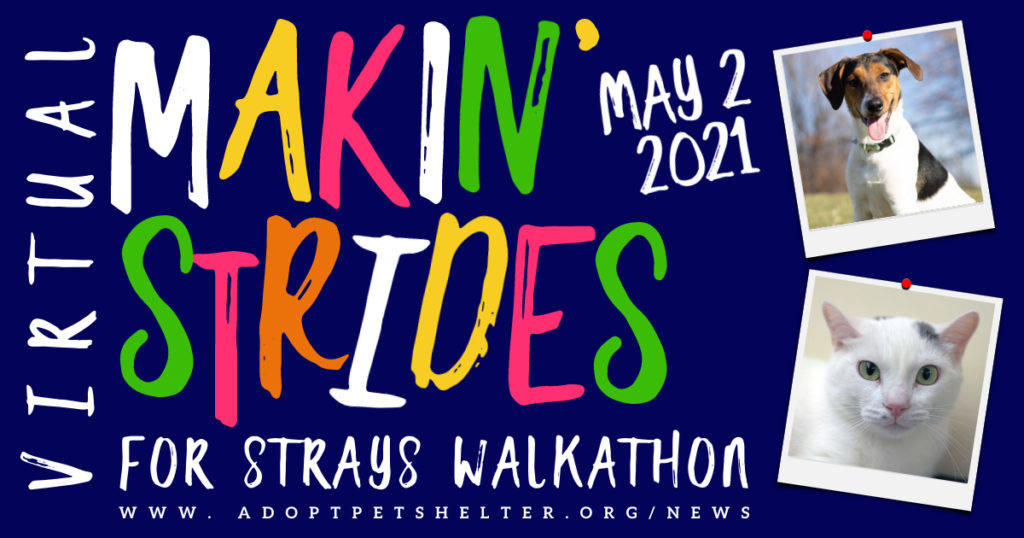 Time to celebrate! The 28th Annual Makin' Strides for Strays Walkathon is coming up on May 2, 2021!
To make your very own fundraising page, please visit the link HERE.
Because of the uncertain times we are currently working in, we have decided to keep our Makin' Strides for Strays event virtual again this year, as opposed to having the traditional in-person event. This decision was difficult as Makin' Strides for Strays is our biggest event of the year and is such a great time for those that truly support animal welfare to come together and celebrate. The safety of our attendees, volunteers, and vendors has to be our main priority, which is what led us to the decision to hold a virtual event.
We plan on making this event as engaging as possible using social media, email, and our website. Please keep an eye out for all things Makin' Strides for Strays in the days leading up to the event and on the day of the event, May 2nd!
---
VIRTUALLY WAGGIN' AND WALKIN'
How can you participate on Sunday May 2nd?
Have a treadmill? Set a goal for yourself to walk the distance of the traditional event of 2.5 miles and share your progress with us with pictures and video! Use the hashtag #VirtualStrides2021.
Take a quick stroll around the block, your yard, or inside your house, take pictures and post on social media. Use the hashtag #VirtualStrides2021.
Make a video of you and your family (including your fur buddies!) and share why you believe animal welfare is important to you and your community. Share your story! Post on social media with the hashtag #VirtualStrides2021.
Create your own online fundraiser to support animals in need through our online fundraising tool (information below) or Facebook!
Donate directly to A.D.O.P.T. through the donate button on our website (please notate Virtual Strides for Strays in the instructions to seller box) or through our Facebook fundraiser!
Usually our event features vendors/sponsors and wonderful community groups. To bring that element to the event, we will be sharing our vendors and their stories with you virtually. Keep an eye on our social media and your email to see all of these great organizations and why they support A.D.O.P.T. Pet Shelter! Please support our vendors as they have made the commitment to supporting A.D.O.P.T. Pet Shelter and the animals in our care!
---
ONLINE GIVING MAKES FUNDRAISING EASY!
Set up an online fundraising page to send to family and friends, personalized with your picture and message about why raising funds for A.D.O.P.T. Pet Shelter is important to you. Your personal story can make all the difference when asking for support! The online giving program makes it easy to raise funds, win incentives, and become that top pledge-getter!
To set up your personal fundraising page, please visit our Panorama web page here to get started.
---
GEARING UP FOR MAY 2nd WITH THE PLEDGE PROGRAM
This is our biggest fundraiser of the year and we would love to continue that tradition. Because of you, we will be able to continue our work taking care of homeless animals. Set a goal and ask your friends, family, and co-workers to help you achieve it! Check out our great fundraising incentives below!
---
TOTAL DONATION AMOUNT AND CORRESPONDING INCENTIVE
$25 ………. A.D.O.P.T. Window Cling (while supplies last)
$200 …….. A.D.O.P.T. Blanket (while supplies last)
$500 …….. Your name added to the walkathon plaque at the shelter
$1000 …… Commemorative tile with your choice of engraving to be mounted at the shelter
Due to the uncertainty of when the shelter will be back to regular operations, please check our website closer to May 2nd for information on distribution of incentives.
The top pledge-getter and top pledge-getting team will be honored with their name being added to the Makin' Strides for Strays progressive plaques displayed at the shelter!
---
REMINDERS
Make a copy of donations for your records
Cash/check donations will be accepted at the shelter through drop off in our secured mailbox; please be sure to include your name, mailing address, and email with your donation
Make checks payable to A.D.O.P.T.; please do not mail cash through the postal service
Receipts are available by emailing kelly@adoptpetshelter.org with the subject line "Makin' Strides Receipt"
Don't forget to check with your employer about MATCHING GIFT PROGRAMS
Questions? Email kelly@adoptpetshelter.org
---
Virtual Makin' Strides for Strays Sponsors