A.D.O.P.T. is very excited to have the opportunity to work with such a diverse, passionate and ambitious group of people who have come together for the betterment of the animals we serve.
Lisa Paschal-Alcorn, President
Lisa joined the A.D.O.P.T. Board of Directors in May 2018 and serves as President as of October 2023. She works as Senior Vice President and Chief Human Resources Officer for Ryan Specialty Group where she is responsible for human capital strategy for RSG's global business, encompassing 70 offices around the world. Lisa began her career in human resources in the retail industry before returning to law school at South Texas College of Law in Houston, Texas. Upon earning her Juris Doctorate, she practiced employment and family law in Houston before returning to the corporate world managing employee relations for Hess Oil. Lisa earned both her Bachelor and Masters degrees from the University of Missouri – Columbia.
Lisa, and her husband John, are lifelong animal lovers and currently have two Goldendoodles, Haylee and Huntlee, who were adopted as rescues. Haylee, their first rescue is an A.D.O.P.T. alumna who joined the family in 2008, followed shortly by the addition of Huntlee in 2010. Lisa and Huntlee are volunteers in the Animal Assisted Therapy program visiting patients at Edward Hospital. Animals have always been an important part of Lisa's life and she considers it an honor to work with the talented group of board members, volunteers and staff at A.D.O.P.T.
JUNE COURTNEY, DIRECTOR, TREASURER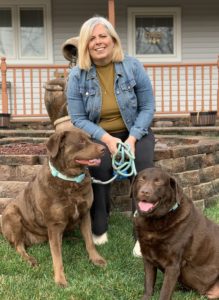 June joined the Board of Directors in 2020.  A lisle resident for 32 years, her and her husband Tim, of 37 years, have three children, one foster son, two grandsons, and two dogs.  Her immediate family actually has eight dogs!  She grew up in unincorporated Hinsdale on a farm and horseback riding school.  She is a loyal friend and lover of all living creatures — except skunks!
A graduate of University of Illinois, she retired after nearly 40 years in commercial banking, most recently as the Executive Relationship Vice President of Commercial Banking for Huntington National Bank.  In 2018 and 2019, Crain's Chicago Business named her one of the most influential and notable women in commercial banking.  Also, in 2018 she received the Adade Wheeler award from College of DuPage.
Deeply devoted to serving nonprofits, June has served as a board member for eight years and as part of the Executive Committee as Development Chair for the last six of those eight years for YWCA Metropolitan Chicago.  She is dedicated to the mission to eliminate racism and empower women.  June has helped in the successful turnaround of the organization after a transition in senior management and the CEO.  Revenues increased from $10 million to $25 million.
June is also a member of the LPGA Amateur Golf Association since 2012, a board member since 2016, and President for the past two years.  Responsible for over 300 members, 25 leagues, and 9 events per year, she has raised approximately $90,000 in cash and in-kind donations over the last 4 years.
She was also a past Treasurer, 2009-2011, of Naperville Country Club and a former Finance and Golf Committee member for Blessings in a Backpack.
David Eisinger, Finance
David has been a volunteer at A.D.O.P.T. since February 2022 and been a member of the board of directors since December 2022. He is a member of the finance committee.
A lifelong cat lover, allergies in the family have prevented David from having cats at home. He gets his "cat fix" by volunteering at A.D.O.P.T.
A seasoned financial executive, David spent twenty years in the financial services industry with Duff & Phelps Credit Rating Company and its predecessors. He served as Senior Vice President and Group Managing Director and he also was the chairman of the corporate ratings committee. In 2000 David left the corporate world for academia when he joined the faculty of the Dunham School of Business at Aurora University. He soon joined Aurora University's administration as Vice President for Finance and Administration. He subsequently served as
Vice President for Finance and Administrative Services at Loras College. David retired in 2016.
David and his wife Carol have lived in Wheaton for forty-three years. They have two adult children who live in the Minneapolis, Minnesota area.
Janet Trowbridge, Director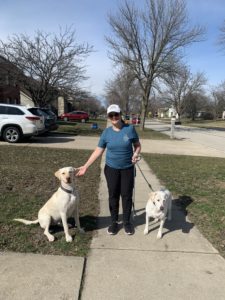 Janet joined the Board in September 2020. Janet and her husband are long-time residents of Naperville where they raised their two children. They have resided in Naperville and Lisle for over 31 years.
Janet and her family are passionate about helping save pets. They have fostered dogs and cats for many rescue organizations in Northern Illinois for more than 25 years. Both Janet and her daughter have volunteered in various capacities at A.D.O.P.T. including fostering.  She and her family have also adopted several dogs from A.D.O.P.T. They currently have two dogs and one cat, who is the "queen of the castle".
Janet earned her B.A. in Political Science from Northwestern University, a M.A. in Writing from DePaul University, and a M.S. in Zoology from Miami of Ohio. Janet retired from a career as a policy analyst in government after 32 years and now teaches at a local community college.
Janet has been active in the community and served a term on the Naperville Plan Commission. Additionally, she was involved in the PTA and served as a board member of the Waubonsie Boys Lacrosse Team and Families Helping Families, a transitional housing program in DuPage County. Through her various volunteer positions, she has gained experience in fundraising and event organization. 
Trent Biederman, Finance
Trent is a CPA with over 20 years experience as an external auditor, internal auditor, and corporate controller.  He has worked within several different industries, mostly focused on manufacturing.  He became part of the ADOPT organization in 2016 when he initially joined the Board of Directors as Treasurer.  He stayed in that role for over 4 years but has since rejoined the Board at the end of 2022 as part of the finance committee.  He lives in Aurora with this wife and two teenage daughters. 
Chris Yelle, Executive DIrector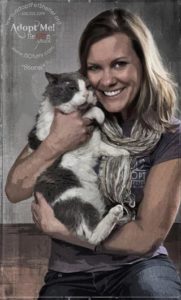 Chris started working for A.D.O.P.T. back in 2009 when she was brought on as A.D.O.P.T.'s Veterinary Technician and then proceeded to become the Medical Services Coordinator overseeing the medical department and low cost spay/ neuter program.  She was instrumental in the development of A.D.O.P.T's Low Cost Vaccine Clinic and Compassionate Programs.  After some time with A.D.O.P.T. Chris was promoted to Director of Operations overseeing shelter operations and programing. She was then promoted to the shelter's Executive Director in 2014.  Chris has always had a strong passion for animals and has served on the Illinois Animal Welfare Federation Board of Directors and has been involved in animal welfare for close to 30 years working primarily in the veterinary specter and then moving to animal control where she worked as an Animal Control Officer and Humane Education Officer and finally animal sheltering where she has found her true calling and strives to improve the quality of life for all homeless animals.  Chris lives in the Western Suburbs and enjoys spending time with her family and is the proud mother of 4 children and 5 rescue babies Meatball and Patty-Old English Bulldogs, Tito and Chito-Chihuahuas and Maximus the wide eyed cat.
Andrea Stauffenburg, DVM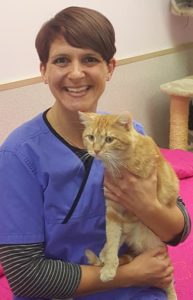 Dr. Stauffenburg graduated from the Iowa State University in 2008 and has practiced small animal medicine in many capacities ranging from high volume to family medicine with a special interest in surgery.
Dr. Stauffenburg's provides spay/neuter services for animals in our care as well as for local rescue groups through A.D.O.P.T.'s spay/neuter clinic.
Dr. Stauffenburg is married with 2 children and 1 rescue kitty adopted from A.D.O.P.T.. During her free time she enjoys outdoor activities with her family.