Giving Tuesday (11/28) is coming up!
Benefitting the Wilbur Memorial Fund for animals with extraordinary medical needs.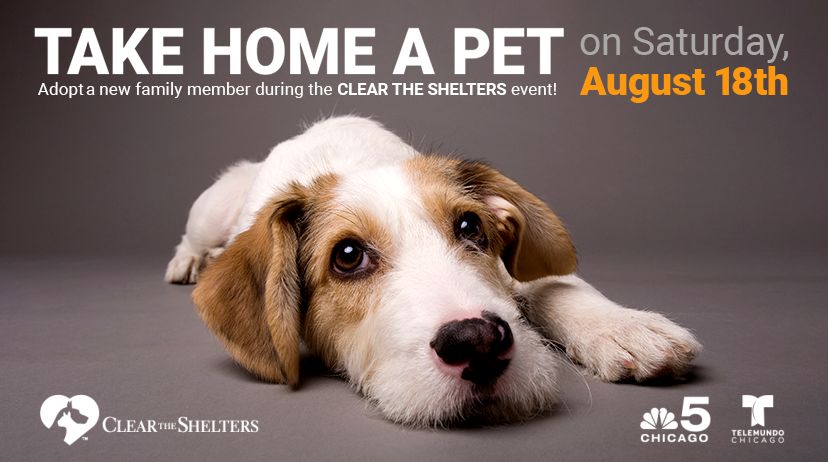 Clear the Shelters
Saturday August 18th, 11am - 4pm
Join us for the Clear the Shelters event on Saturday, August 18 from 11 a.m. to 4 p.m. as we partner with animal shelters across the country who are teaming up with NBC and Telemundo stations to find loving homes for pets in need.  The goal is to #ClearTheShelters by finding forever homes for as many animals as possible.
Please be patient as we anticipate that we will be very busy. Our goal is to provide adopters with a pet that is best suited for their family so your wait may be a bit longer so that we can spend a little time with each adopter and their new pet. Thank you for choosing to adopt!!
We will offer the opportunity to be "Preapproved" Starting Monday August 13th thru Friday August 17th until 12:00pm noon only.  Applications received outside of these dates will not be considered for preapproval.
     o Preapproval does NOT guarantee adoption.
     o Preapproved applicants will spend less time in lines the day of the event.
     o Preapproval is easy. Simply complete either the dog adoption application or cat adoption application and send it to cleartheshelters@adoptpetshelter.org. You will be notified once your application has achieved preapproval status.
     o Applications for preapproval will only be accepted through the Clear the Shelters email or by fax at 630-800-2194.
     o Applicants who have not gone through the preapproval process will be required to provide:
        o Completed application
        o Written proof of current vaccinations for current pet
        o Written proof of spay/neuter for current pet
ALL applicants will be required to adhere to A.D.O.P.T.'s adoption policies:
     o Must be 21 years of age and provide valid identification. (Driver's License, State or Military ID)
     o All family members must be present at the time of adoption(with the exception of college students/military)
     o Must reside in a pet friendly residence
     o Current pets must be up to date on vaccinations
     o Current pets must be altered(spay/neuter)
Applicants considering adopting a dog who currently have a dog at home will need to adhere to the following A.D.O.P.T. policies:
     o Current dog must be friendly with other dogs
     o Dog to dog introduction must be done by A.D.O.P.T. staff.
     o Current dog must be brought in with a regular collar or harness and leash. Retractable leashes, prong/pinch or choke collars will not be allowed.
Please make sure you have ample room in your car for two dogs; one may have to be crated for the ride home or consider driving 2 cars. We will sell travel crates for $15.  All cats must go home in a carrier.  There will be cat carriers available for purchase for $5.
Additional Event Day Information
o Event day Garage Sale! Pet supplies will be sold to include crates, carriers, collars, leashes, toys, bowls and much more! All proceeds benefit the animals.
o Pizza and Pop/Water will be available for purchase by Taylor Street Pizza. Cash only please.
o Parking for the event will be located in the commuter lot on Westin Ridge Dr, just east of the shelter.  Volunteers and signage will be present to direct you to the location.
Cats and unleashed dogs will NOT be allowed at the event.